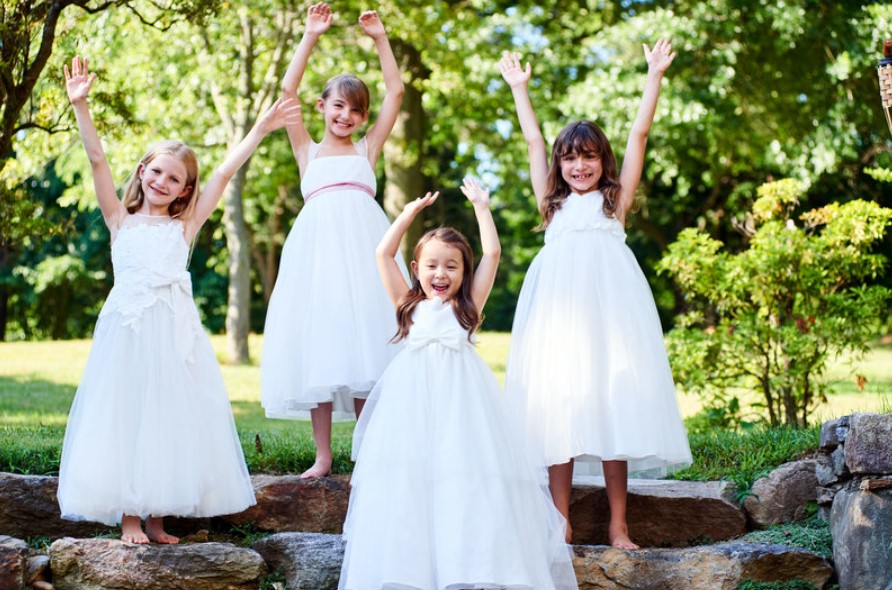 Every girl cherishes memories of playing dress up, like trying on their mother's shoes and jewelry or a too-big skirt. Flower girl dresses hold a special place in these memories since they're worn to a significant event. The charm of these dresses resonates throughout a girl's life, as the experience of dressing up is etched deeply into her memory.
Your flower girl is a crucial part of your wedding day crew, as she sets the tone for the grand entrances to come. Walking down the aisle, scattering flower petals and exuding cuteness, she's sure to steal the show and capture everyone's hearts. Make sure to give her a special role and plenty of love on your big day!
Flower girl dresses you will adore
As couples move away from traditional wedding planning, flower girl roles are becoming more flexible. In addition to nieces and nephews, couples are also choosing sons, daughters, grandmas, and even best friends for this role. The important thing isn't who fills the role, but that the person is important to the couple and able to fulfill the flower girl duties.
When it comes to fashion on your wedding day, your flower girl's outfit is just as important. To add a touch of uniqueness to your celebration, consider having your flower girl wear a romper or jumpsuit instead of a traditional gown. This modern option not only makes a statement but is comfortable for your little one too. Showcasing style and functionality, it's a win-win for all involved.
For traditional wedding fashion, go for a flower girl dresses from Pink Princess for your little one. They come in a range of colors, styles and fabrics that suit any wedding theme. They have compiled a list of top picks to help you choose.
What can you exempt?
Matching the flower girl's dress to the bride's wedding dress is not a hard and fast rule. Some brides prefer ivory flower girl dresses that match their own dress, while others opt for dresses that match the color of their bridesmaids.
When it comes to dressing your flower girl, consider your wedding theme. While dress colors don't need to match, the dress style should fit in with the overall vibe of the event. For example, if you're getting married by the beach, go for a lightweight and flowy lace dress instead of a fluffy tulle tutu style. The dress should complement your theme and create a cohesive look.
Flower girl dresses should be modest and not controversial. Avoid plunging necklines and shorter styles typically worn by bridesmaids, which are more appropriate for adult members of the bridal party.
Which fabric you can choose?
When selecting flower girl dresses, fabric choice is key. While silk looks beautiful, it can tear easily and wrinkle quickly, which may not be practical for an active young girl. It is important to take into consideration the event and age of the flower girl when selecting a material, and to prioritize comfort and durability in addition to aesthetics. Other popular fabrics for flower girl dresses include cotton, tulle, and chiffon.
When it comes to selecting a flower girl dress, it's better to opt for fabrics like lace or chiffon that don't wrinkle easily. Tulle is a common choice but can be challenging to manage. If you don't want to fuss over removing its wrinkles, then opt for other fabrics that are low-maintenance, don't wrinkle, and still look gorgeous. Lace and chiffon fabrics are known for their romanticism and make for perfect flower girl dresses.
At last
When choosing an outfit for your flower girl, keep in mind the overall aesthetic of your wedding. A simple, yet elegant dress in a complementary color to your bridesmaids' dresses is a classic choice. You can also incorporate some playful elements, such as a floral crown or a sash that matches your own bridal attire. Comfort is key, so opt for breathable fabrics and shoes that fit well. Most importantly, let your flower girl's personality shine through and allow her to feel confident in her role as a special part of your big day.
Related Posts